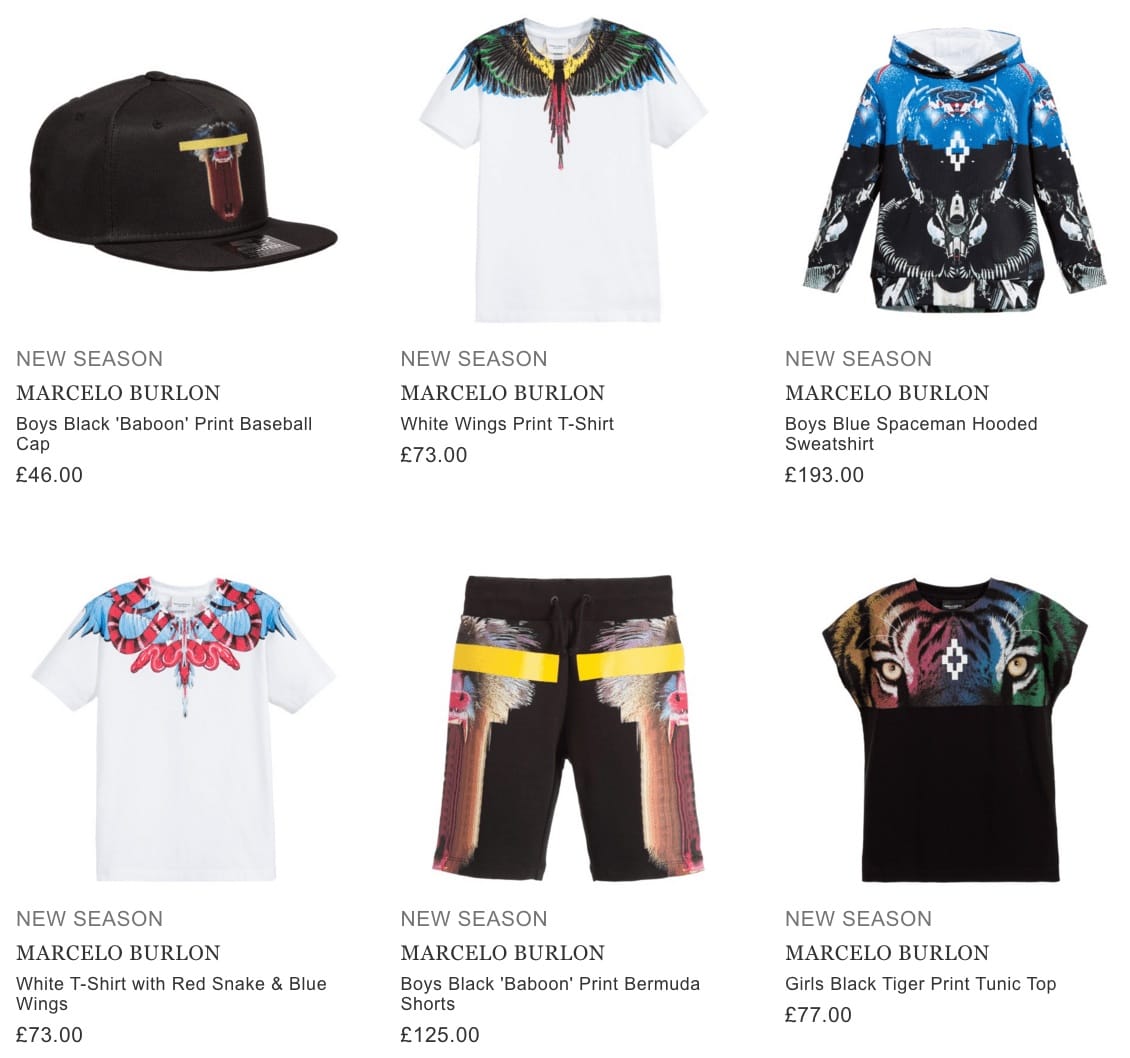 Marcelo Burlon is a renowned and highly recognizable designer who has recently launched a kids' wear collection comprised of various fashionable and trendy items to meet the needs of young customers in stylish outfits and accessories. Marcelo Burlon's collections are characterized by incomparable modernity. The brand is officially based in the heart of Italian fashion – Milan. However, the eccentric designer ignores all geographical boundaries, so that his creativity surpasses all imaginable levels. His brand is among the most powerful trademarks. It continues to expand and grow conquering new horizons and winning new markets. The kids' wear collection of the brand is really diverse. It is comprised of a great assortment of fashionable items of kids' clothing oriented on toddlers and older children. The edginess of Marcelo Burlon's style is embodied in the line of kids' clothes as well. The collection is penetrated with truly Italian sophistication and elegance. However, the boys' wear can be characterized as cool and stylish at the same time being highly wearable and comfortable. The designs provided by the brand are distinguishable among other trademarks. You will never see anything similar to what Marcelo Burlon creates and embodies in the collections of kids' wear. Every child dreams of wearing such clothes that can be combined with a variety of accessories provided by the same designer.
Marcelo Burlon is truly a legendary fashion brand that has turned the world of fashion upside down due to his characteristic style that penetrates every collection of the trademark. The brand is distinguished by supreme quality as well. All fabrics and materials used in the production process are carefully selected by the designers of the brand to ensure that they are of the highest quality and would provide maximum comfort to little children. That is why every piece of clothing produced by the brand follows the latest standards of quality established in Italy and across Europe. The collections of Marcelo Burlon bristle with unforgettable designs and edgy styles that are aimed at revealing the personal taste and style of every child who wants to look great in any situation. Marcelo Burlon is for everyone who is keen of wearing trendy clothes that are at the same time comfortable and wearable. The brand produces its goods in Milan and distributes all across Europe and other parts of the world. Nowadays, the clothes and accessories by Marcelo Burlon can be found not only in European fashion boutiques, but also online. Many online stores provide customers with an opportunity to get clothing of the brand for a highly reasonable price.
The designer always knows what every child needs in terms of comfort and fashion. Thus, his brand incorporates the style of modernity that will help to reveal the personality of your child and make him/her look great at any event. The clothes of the brand are dressy and always in trend. The brand is about to launch a new collection in the nearest future. It is likely to be enriched with new palettes and color combinations to ensure that every child looks not like anyone else. Check out Marcelo Burlon's collection of kids' wear to find something truly exclusive for your precious ones. Whether you are looking for trendy clothes for your child or simply want to buy something comfortable for your little one, Marcelo Burlon has much to offer. Don't hesitate to look through the fantastic range of clothing and accessories provided by the leading trademark in the kids' fashion industry. The brand offers a splendid assortment of goods that every child will adore wearing, while every parent will be pleased with the quality of garments to ensure maximum durability and functionality of children's clothing.