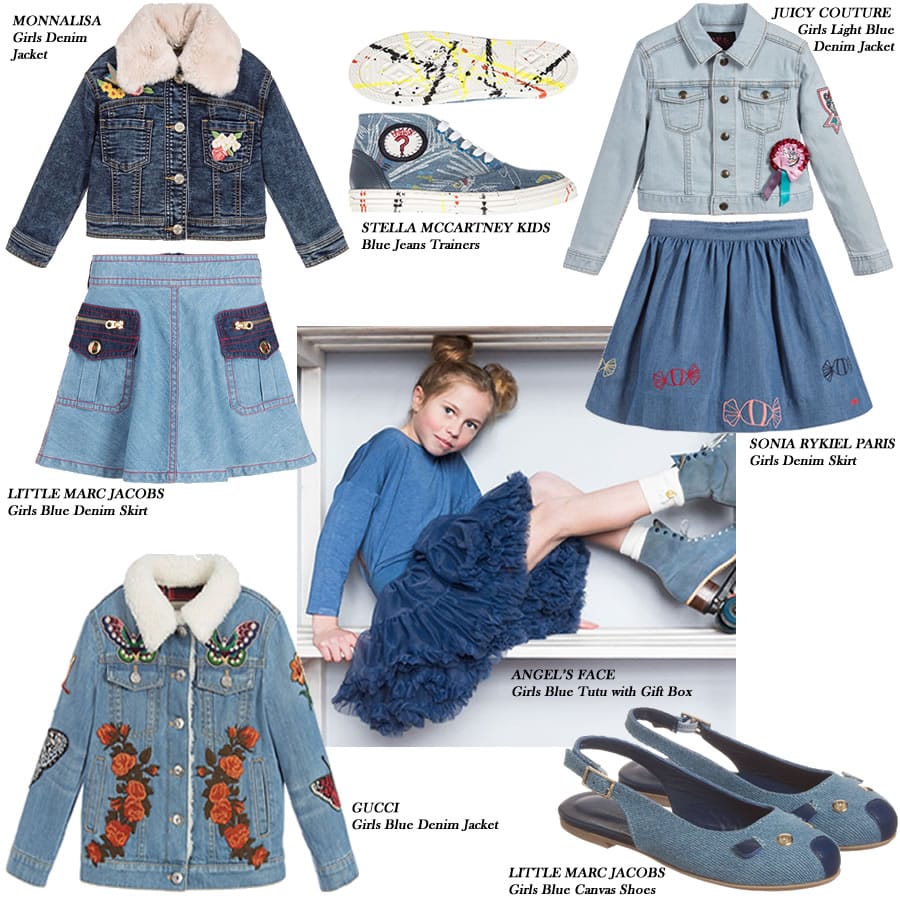 Best denim brand name clothes for girls
It is impossible to imagine modern girl wardrobe without denim clothing, shoes and accessories. Jeans become so popular because of its universality, girls can wear them for everyday life and for some parties also, every time it will be appropriate. Sure, the most popular denim clothes are jeans pants, but here we have outfits for girls, so we decided to make these looks more feminine and use only skirts. Please, take a look at the results of our work:
– we have three girls denim jackets here, all of them have different decorations like flowers, butterflies, and animals. Juicy Couture is a light blue girls denim jacket, it is more for warm weather, like +18C degree or more. Monnalisa and Gucci jeans jackets look like "winter" jackets, but they are not really are. They have faux fur and wool collars and trim, but we think it is not comfortable to wear these jackets under +15C. As you can see Gucci jacket is much more expensive, but it is really gorgeous.
– take a look at other 3 options, three beautiful skirts. All these girls skirts are well-known brand names Sonia Rykiel Paris, Little Marc Jacobs and Angel's Face. Skirt by Sonia Rykiel has nice and sweet candy embroidery, Little Marc Jacobs's skirt has a combination of two denim colors and red stitching and the last one is Angel's Face tutu skirt, frankly speaking, it is not really denim, it is just denim color, but it will match perfectly with denim jacket and denim shoes
– we have an option of 2 pairs denim shoes, one for a more classic look by Little Marc Jacobs (with funny mouse look details on it) and the second pair is Stella McCartney Kids trainers with paint spots effect. Modern fashion easily combines skirts and trainers and when we are talking about denim it is especially stylish
Hope you'll like this girls denim outfit, in a few days we'll mix boys jeans clothing and accessories.